Winners of the 1st Day of the Asia and Oceania Sambo Championships 2023
The Asia and Oceania SAMBO Championships will be held in the capital of Kazakhstan - the city of Astana from 7 to 11 June. SAMBO competitions will be held among adults, juniors, youth, masters, as well as among blind and visually impaired sambists. On the first day of the tournament, 36 sets of medals were played.
The general partner of the tournament is Rosneft oil company.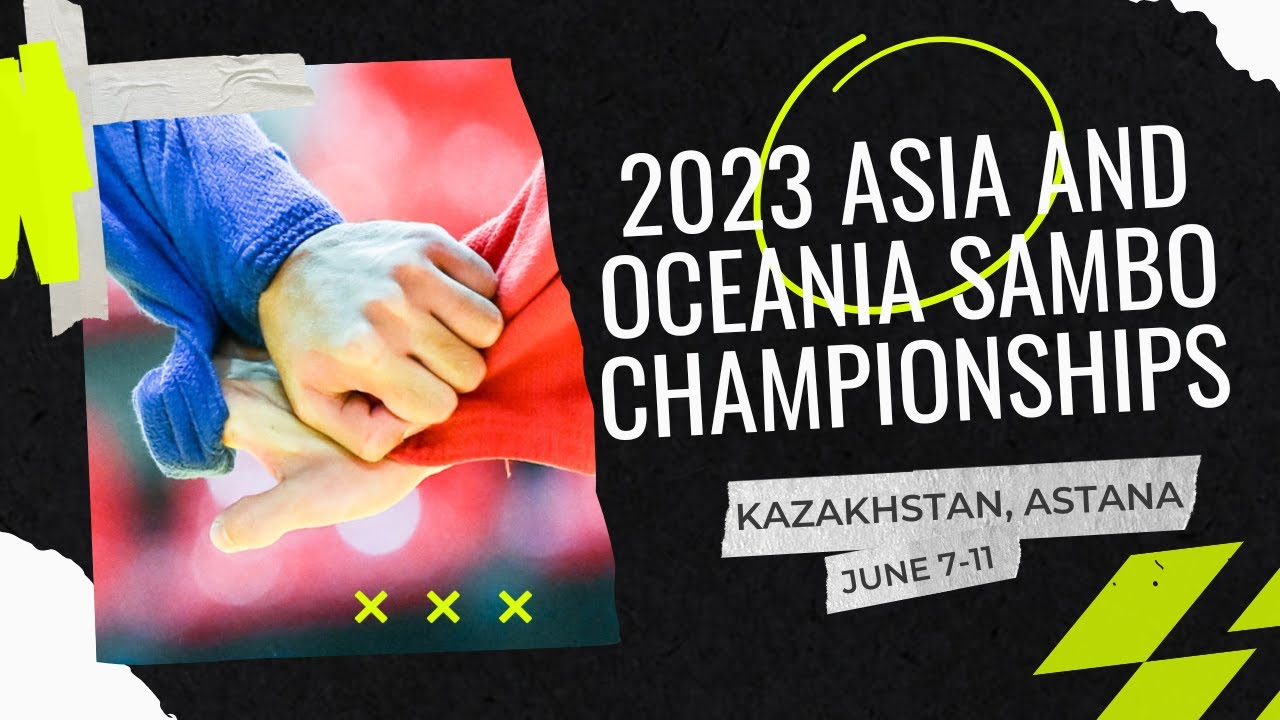 Results of the 1st day of the Asia and Oceania Sambo Championships 2023
7 June, Astana, Kazakhstan
SAMBO for Blind and Visually Impaired
SVI-1
58 kg
1. ABDRAKHIM UULU Beksultan (KGZ)
2. IBRAGIMOV Asadbek (UZB)
64 kg
1. SHAVDINOV Srazhdin (KAZ)
71 kg
1. NURDAULETOV Assylan (KAZ)
2. MOLDOBEKOV Suimonkul (KGZ)
3. ABDIEV Khusan (UZB)
79 kg
1. RUDENKO Viktor (FIAS)
2. NAZAROV Shokhrukh (TJK)
3. SAKHATOV Shokhrukh (UZB)
3. ARSTANBEKOV Bauyrzhan (KAZ)
88 kg
1. JURAEV Ilkhom (UZB)
2. BEKENTAEV Erbolat (KAZ)
3. KAIROV Askar (KAZ)
+98 kg
1. ABILKASOV Nurzhan (KAZ)
2. ABDULLAEV Sirojoddin (UZB)
SVI-2
58 kg
1. ADAMBEKOV Adilet (KAZ)
64 kg
1. ZHUMADIL Bakytzhan (KAZ)
2. ZHAMAUOV Azamat (KAZ)
71 kg
1. AKHMEDOV Akhmed (KAZ)
2. TURUMBETOV Azamat (KAZ)
88 kg
1. SAGYNDYK Kanat (KAZ)
98 kg
1. TAIPOV Rustam (KAZ)
2. GEDDES Benjamin (NZL)
+98 kg
1. SHAIMERDENOV Kairat (KAZ)
Masters
M-4 (50-54)
64 kg
1. KARAKANOV Marat (KAZ)
2. RACHSHUK Evgeniy (KAZ)
3. NURSAFIN Alibek (KAZ)
3. SERGAZIEV Ikenbay (KAZ)
71 kg
1. KHOLIKOV Obid (UZB)
2. TULEGENOV Malik (KAZ)
3. MAKHMETOV Zeinur (KAZ)
3. AKHMETOV Murat (KAZ)
79 kg
1. ZHUNUSOV Bulat (KAZ)
2. ZHUMAKANOV Aidyn (KAZ)
3. RAMAZANOV Erkinbay (KAZ)
88 kg
1. CHAKENOV Baurzhan (KAZ)
2. KABYLKHANOV Zhardembek (KAZ)
3. KARIMOV Sadriddin (UZB)
3. MOLDAZHANOV Berik (KAZ)
98 kg
1. KYNYRBEKOV Zhanabek (KAZ)
+98 kg
1. UALIEV Alibek (KAZ)
2. ZHUSUPOV Bekbolat (KAZ)
3. ABATOV Erzhan (KAZ)
3. QALXORAZOV Davletmurad (UZB)
M-5 (55-59)
64 kg
1. IMAMBEKOV Bulat (KAZ)
2. ARYSTANBEKOV Mukhanbetzhan (KAZ)
71 kg
1. AVLOKULOV Tura (UZB)
2. NAURZALIEV Rashid (KAZ)
3. BEISENOV Kurmangazy (KAZ)
79 kg
1. GANKHUYAG Uurtsolmon (MGL)
2. YUSUPOV Azamat (UZB)
3. TUSPEKOV Usen (KAZ)
3. KDIRNIYAZOV Koblandy (KAZ)
88 kg
1. TEMIROV Nurgalym (KAZ)
2. AYUPOV Ismagul (KAZ)
3. KAKENOV Tilek (KAZ)
3. YARMATOV Bakhriddin (UZB)
98 kg
1. YESSENDIYAROV Kaimen (KAZ)
2. AINATAEV Samalbek (KAZ)
3. SARDARBEKOV Bagdat (KAZ)
3. YERMAGAMBETOV Nurzhan (KAZ)
+98 kg
1. ABIROV Zhanat (KAZ)
2. EGAMBERDIEV Sunatkul (KAZ)
3. KALIZHANOV Aidar (KAZ)
M-6 (60-64)
64 kg
1. KURMASHEV Kazbolat (KAZ)
2. TEMIRBEKOV Nurgeldi (KAZ)
3. KALMAKBAEV Ergali (KAZ)
3. SABITOV Damir (KAZ)
71 kg
1. KOSHENOV Maral (KAZ)
2. USIN Mukhtar (KAZ)
3. SAPARBAEV Akatay (KAZ)
79 kg
1. MANABAYEV Bolat (KAZ)
2. KAIROLDA Murat (KAZ)
3. YUSUPOV Sanzisbay (UZB)
3. SHARIPZHANOV Omirtay (KAZ)
88 kg
1. AMRENOV Seilkhan (KAZ)
2. NURIMBETOV Jumabek (UZB)
98 kg
1. ELAMANOV Ural (UZB)
2. TASTAIBEKOV Aitbay (KAZ)
3. BRAMONTOV Sergey (KAZ)
3. ALLANOV Makhsetbay (UZB)
+98 kg
1. TERGEUBEKOV Erkanat (KAZ)
M-7 (+65)
64 kg
1. MUSABEKOV Almas (KAZ)
2. KABAKBAYEV Serikbay (KAZ)
3. DJABBOROV Djavkhar (UZB)
3. ZARUBAEV Elubay (KAZ)
71 kg
1. MUNTYNOV Urazbay (KAZ)
2. TLEBALDIN Serikbosyn (KAZ)
3. ORTIKOV Sunnat (UZB)
3. NAVRIZBAEV Kudaybergen (UZB)
79 kg
1. ALIYASKAROV Maksim (KAZ)
2. KHOLIKOV Ashur (UZB)
3. SHUGAIPOV Bakvay (KAZ)
88 kg
1. DAUTOV Seitakyn (KAZ)
2. ZIYAEV Kurmanseiyt (KAZ)
3. TURSYNBEKOV Akylbek (KAZ)
98 kg
1. SMAGULOV Aimukhamet (KAZ)
+98 kg
1. TERGEUBEKOV Boranbai (KAZ)
2. VASILIEV Vladimir (KAZ)
3. AISARIEV Zholshybek (KAZ)