"Rossiyskaya Gazeta": SAMBO can become an Olympic sport
President
13 February 2014
Sergei Grishin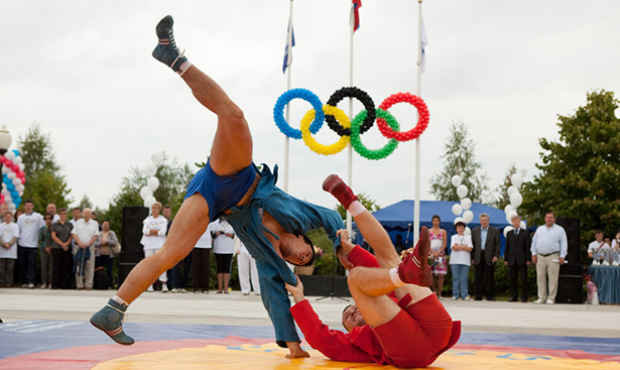 Originally our sport, developing in more than one hundred countries, is worthy of the Olympic status. The Olympic capital is not just competitions and medals, hymns and flower ceremonies. A good few of the international sports federations' representatives gathered here, and not only in winter disciplines. Future of many sports, if not the fate and fortunes, hangs in the balance in conversations, negotiations, meetings.
Including SAMBO which originated in Russia. And President of FIAS (International SAMBO Federation) Vasily Shestakov uses every day and moment to talk about the fighting having gained enormous popularity in the world through the efforts of the FIAS and Russia.
I interpreted his conversation with Ms. Nawal El Moutawakel, Vice President of the IOC, the first Olympic champion in Morocco. Yes, a detailed conversation with the athlete who won 400-meter hurdles at the Olympics-84, was about SAMBO. And the member of the IOC Executive Committee promised to contribute in every way for SAMBO to join the Olympic family, to be recognized as an Olympic sport. Just on the Asian continent two dozen countries practice self-defense without weapon. So Ms. Nawal, who filled a position of Minister of Sports in the Cabinet of her country twice, also promised to support SAMBO in Morocco.
Yes, a detailed conversation with the athlete who won 400-meter hurdles at the Olympics-84, was about SAMBO.
Alain Lunzenfishter nicknamed "Mr. Olympism", a well-known French journalist, also tends to it. What is also important, since recently, as it was impossible long ago, he became Counsellor on the IOC press of the new President Thomas Bach.
The Italian Gianni Merlo, President of the International Sports Press Association (AIPS) promised Vasily Shestakov to establish SAMBO Journalists Commission at the AIPS. Naturally, the sport applying for the Olympic status, should be in the crosshairs of journalistic cameras. Merlo also received an invitation to the Tournament in England. SAMBO is popular there. And the British proposed themselves to host the SAMBO athletes' Tournament for the prizes of the Russian President Vladimir Putin, Master of Sports in SAMBO and Judo. Not now, not in the midst of the winter season, but closer to fall, sometime in October.
The work is coming along. The Olympics is not only for the Olympians. It is also for those who want to become them.
Nikolay Dolgopolov,
"Rossiyskaya Gazeta" (www.rg.ru)