SAMBO athlete Laure Fournier has joined the «Champions for Peace» club
Personalities
21 September 2017
Sergei Grishin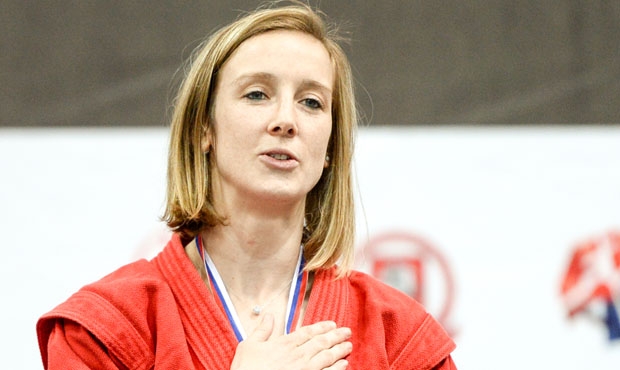 Today (September 21) is the International Day of Peace. The Peace and Sport organization has presented a new «Champions for Peace» list, these athletes will disseminate the organization`s ideals all over the world. French sambist Laure Fournier has been included on the list, along with other 8 great sportsmen. It should be noted that she has become the second sambo athlete to join the «Champions for Peace» club after Fedor Emelianenko.
Laure Fournier earned her first SAMBO medal at the 2012 World Championships, which was held in Minsk. This sambist went on to win many other prizes, including gold medals. «La Marseillaise» was played in her honor both at the «SportAccord» games and the SAMBO World Cup…
Laure is a top-class athlete, but she still finds time to work as a commercial engineer. Besides that she also trains children at a sports club and carries out organization duties, when various SAMBO events are held in France.
Besides Laure, other members of the Peace and Sport «Champions for Peace» club include:
- Didier Drogba (Football, UEFA Champions League winner, Ivory Coast);
- Tahl Leibovitz(Para-Table Tennis, Paralympic Champion, USA);
- Adrien Maré(Motorsport, Baja World Champion, Monaco);
- Daba Modibo Keita(Taekwondo, two-time World Champion, Mali);
- Zsolt Moradi(Kickboxing, eight-time World Champion, Hungary);
- Sarah Ourahmoune(Boxing, World Champion, France);
- Florent Pietrus(Basketball, Captain of National Team, France);
- Isabelle Yacoubou(Basketball, Captain of National Team, France).
According to the Peace and Sport statement, these athletes have demonstrated their belief in the power of sport for change throughout their career, engaging in numerous community-led projects and using their privileged position as athletes to inspire future generation. Together, the new Champions will bring fresh energy and enthusiasm to the cause and will help Peace and Sport enact more change than ever before.
«The Champions for Peace have become an incredibly important part of our mission to promote the peace-through-sport movement, and I am ecstatic to welcome so many new faces to our family», – said Peace and Sport president Joël Bouzou.
The Champions will begin working immediately, speaking around the world on the power of sport and engaging in a host of field projects. On top of this, the ambassadors will begin to host "Sport Workshops" aimed at inspiring those in poverty to better their socio-economic situation through sport.